Mostly Cloudy: The Once and Future JEDI
OFF WE GO, INTO THE WILD BLUE YONDER...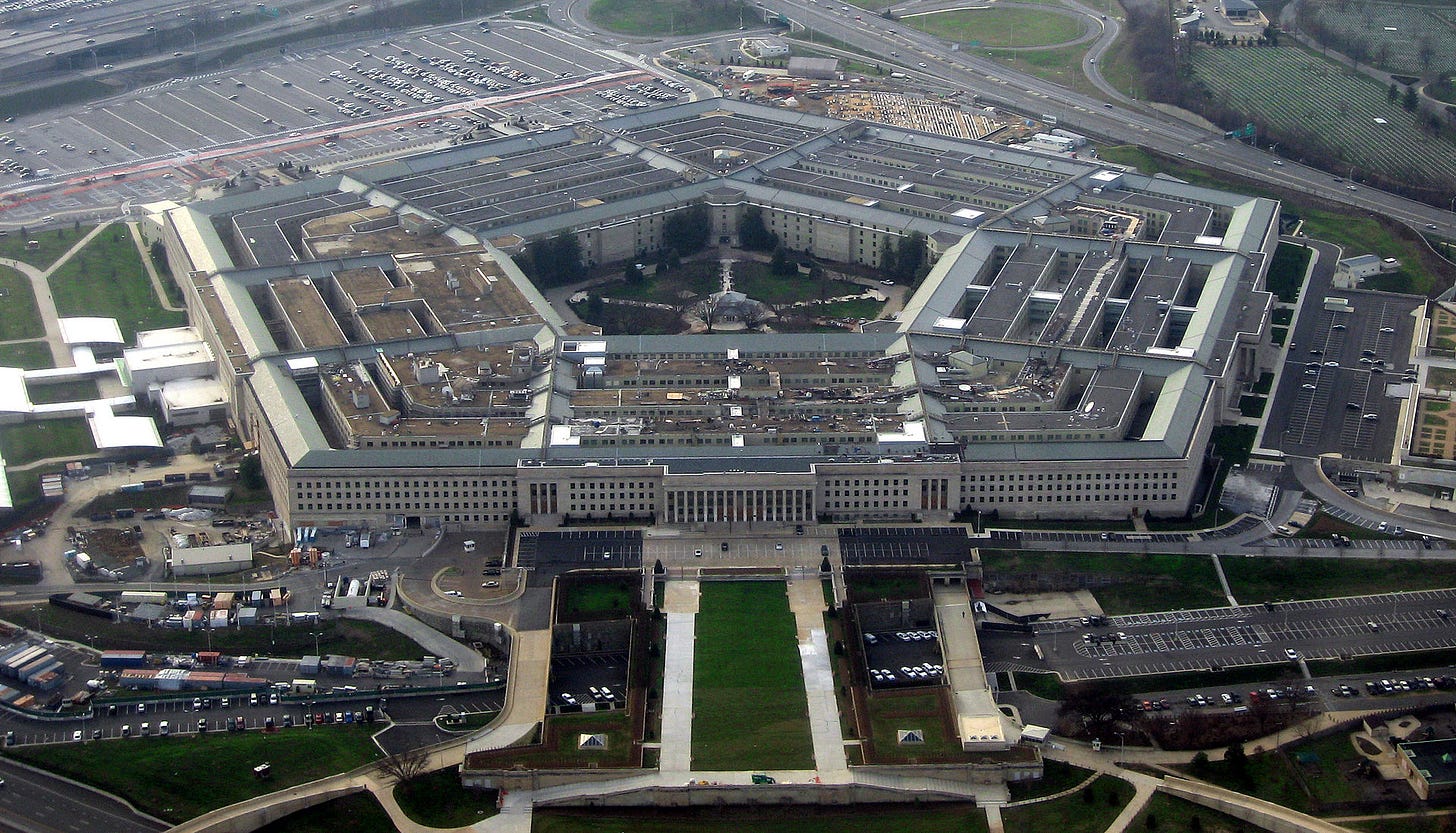 Welcome to Mostly Cloudy, the official cloud computing newsletter of The War Fighter! (Official endorsement has not been reviewed by whoever is Secretary of Defense this week.)
---
This Week in Cloud: A Disturbance in the Force
The ongoing saga involving the U.S. Department of Defense's plans to modernize its computing infrastructure is a great example of the historic dysfunction of this administration and the willingness of some tech companies to exploit this dark period in U.S. history.
The multibillion-dollar JEDI (Joint Enterprise Defense Infrastructure) contract has been delayed so many times at this point that NextGov was able to put together a long, amazing timeline of the twists and turns in just the first year after it was unveiled. Almost immediately after the DoD announced plans to pursue an ambitious enterprise IT modernization strategy in September 2017, the process has been hijacked by companies that have no business building global cloud services for a customer as demanding as the Pentagon but that are willing to use President Trump's well-known disdain for Jeff Bezos, Amazon CEO and owner of the Washington Post, as a club against a rotating cast of Defense Department officials.
The latest delay arrived Thursday, after CNN reported last week that Oracle put together some sort of infographic (remember those!) for the President (who likes to look at pictures) arguing that the JEDI process has been rife with conflicts of interest involving an AWS employee. Despite the fact that several government agencies have already dismissed those specific concerns, new Secretary of Defense Mark Esper said Thursday that the contract would be delayed while he looks into the matter, an announcement meant for an audience of one.
President Donald J. Trump, Vice President Mike Pence, Defense Secretary Dr. Mark T. Esper and Air Force Gen. Paul J. Selva, vice chairman of the Joint Chiefs of Staff, participate in a welcome ceremony in Esper's honor at the Pentagon, July 25, 2019. (Department of Defense Photo/Army Sgt. Amber Smith)
The DoD once hoped to pick a vendor by September 2018. At this point, all bets are off.
There are a few reasonable objections to the Pentagon's JEDI contract procurement process, and the one most frequently cited is the decision to award the bulk of the long-term contract to just a single vendor. Yet that decision is also defensible from the cloud buyer's point of view: multicloud strategies might be en vogue, but there are still lots of cloud buyers that don't want to deal with the cost and complexity of managing workloads across multiple cloud providers, who all do things in slightly different ways.
What's obvious to anyone who follows cloud computing, however, is that arguments that the DoD bidding process was biased in favor of AWS ignore a simple fact: in 2019, anyone thinking about using cloud services for their IT needs at least kicks the tires of AWS.
That's because AWS and Microsoft are the only U.S. companies qualified to operate a modern, robust global cloud service designed to service the critical needs of a far-flung military organization that is literally making life or death decisions based on its data, as the DoD correctly concluded earlier this year. Google could have also made a serious bid for the JEDI contract, but it took itself out of the running last year after an employee uprising over a separate artificial intelligence project with the Pentagon.
Oracle has been scaling back its cloud infrastructure computing efforts over the last year, changing its reporting metrics to obscure how much money it isn't making from cloud infrastructure services and reducing investment in the capital expenditures required to maintain a world-class cloud computing service. IBM has a global footprint but offers technology that cloud industry insiders rank below the services offered by the Big Three.
These are strange times. Republicans who have bent over backwards in the 21st century to give the military everything it wants — while questioning the patriotism of anyone who raises an eyebrow at that largesse — are working to deny the military the services of a true American technology innovator that happens to be run by a man who also owns a newspaper that accurately reports on the misdeeds of the President.
That's a little unfair to Microsoft, which can make a strong case for the JEDI contract on its own merit. But if Microsoft comes out on top because the President was convinced by an infographic that the Deep State is out to get him, no one wins.
---
And Now, A Word…
As expected, a humble request that the PR-industrial complex would take it easy on Mostly Cloudy made little to no impact this week. I can't stop you from sending those pitches, but don't promise your clients any coverage.
(Feedback from real readers to mostlycloudy@substack.com is encouraged, and interesting feedback might be included in a future newsletter.)
---
Around the Cloud
Republicans launch inquiry into data breaches (Financial Times)
The fallout from the Capital One data breach continues to spread, as House Republicans sent letters to both Capital One and AWS asking for more details about the circumstances that led to the theft of an enormous amount of personal information earlier this year. And it sounds like House Republicans are going to try and use this incident as an argument against AWS getting the JEDI contract, which is ridiculous given that Capital One has admitted fault, but here we are.
Amazon sues former AWS exec for joining rival Google division as cloud wars escalate (GeekWire)
If Seattle wants to ever really be a tech epicenter, Washington state needs to get its act together on non-compete agreements, which AWS (and others) have demonstrated that they'll use almost on a whim to discourage employees from seeking greener pastures. This suit hinges on the claim that selling cloud services to financial customers is the same as selling cloud services to healthcare customers because they are both highly regulated industries, and that is a stretch.
Public cloud market is nowhere near plateauing, says IDC (Fierce Telecom)
Cloud spending continues to rise, up 27.4 percent in 2018 according to IDC's latest numbers. Companies spent $182.5 billion on cloud services last year across infrastructure, platform, and software-as-a-service vendors, and infrastructure services from the likes of AWS and Microsoft Azure are growing the fastest.
Google debuts migration tool for its Anthos hybrid cloud platform (SiliconAngle)
If Google makes any headway against AWS and Microsoft over the next few years, Anthos — which is basically training wheels for the path to the public cloud — will likely be a big reason. Google introduced the hybrid cloud product earlier this year at Google Cloud Next, and a migration tool is now available that lets customers move old virtual machines into containers, which makes those workloads much more portable.
IaaS Pricing Patterns and Trends 2019 (Redmonk)
If you're wondering how cloud pricing compares across the major vendors, Redmonk has some nifty charts to check out. One thing jumped out at me: cloud pricing has largely stabilized after years of frequent and regular vendor price cuts, and vendors are competing much more on the breadth and depth of their services than price alone.
Research: 64% using or considering industry cloud services (ZDnet)
While this package is just barely on the happy side of sponsored content, there's a lot I didn't know about the growth of special-purpose cloud computing services and vendors designed for vertical industries with unique needs. Cost and security were the two most common reasons cited for choosing industry cloud vendors like Veeva and Rootstock.
Disasterpiece Theater: Slack's process for approachable Chaos Engineering (Slack)
Disasterpiece Theater! Slack has come up with an interesting way to introduce the concepts of chaos engineering — in which you deliberately introduce failure into your engineering environment to understand exactly how things fail — into its existing tech infrastructure. Worth a read for companies thinking about jumping on this growing trend but worried about causing more chaos than they can handle.
IBM, Rometty outline Red Hat strategy: Here's how the parts fit together for IBM growth (ZDnet)
IBM and Red Hat had a lot of time to think about their combined product strategy while waiting for their $36 billion merger to close, and IBM CEO Ginny Rometty — whose legacy as IBM CEO likely hinges on this deal — discussed growth plans with financial analysts this week. In short, IBM is hoping that Red Hat is the right IT modernization partner for IBM's large-but-behind-the-times client base.
---
Lift and Shift
Ex-Joyeur (Bryan Cantril)
The next time you have some time to kill, go on YouTube and find any number of tech-event keynotes delivered by Bryan Cantril, who left Joyent this week after nine years following the company's decision to get out of the cloud business. They are thoughtful, hilarious, and prescient, and whatever Bryan decides to do next will be worth following.
---
Seeding the Cloud
Armory raises $28 million to commercialize Spinnaker (Venturebeat)
Spinnaker could be the next big infrastructure open-source project to take the industry by storm, now that Kubernetes has been more or less established as a standard for container orchestration. Netflix and Google created Spinnaker as a vehicle for continuous delivery of software across multiple clouds, and Armory has now raised $40 million for what appears to be an Open Core product strategy around Spinnaker.
---
Tweet That Made Me Laugh or Cry or Think