Unicorn down: Docker gives up on the enterprise
A PAWN AND A KING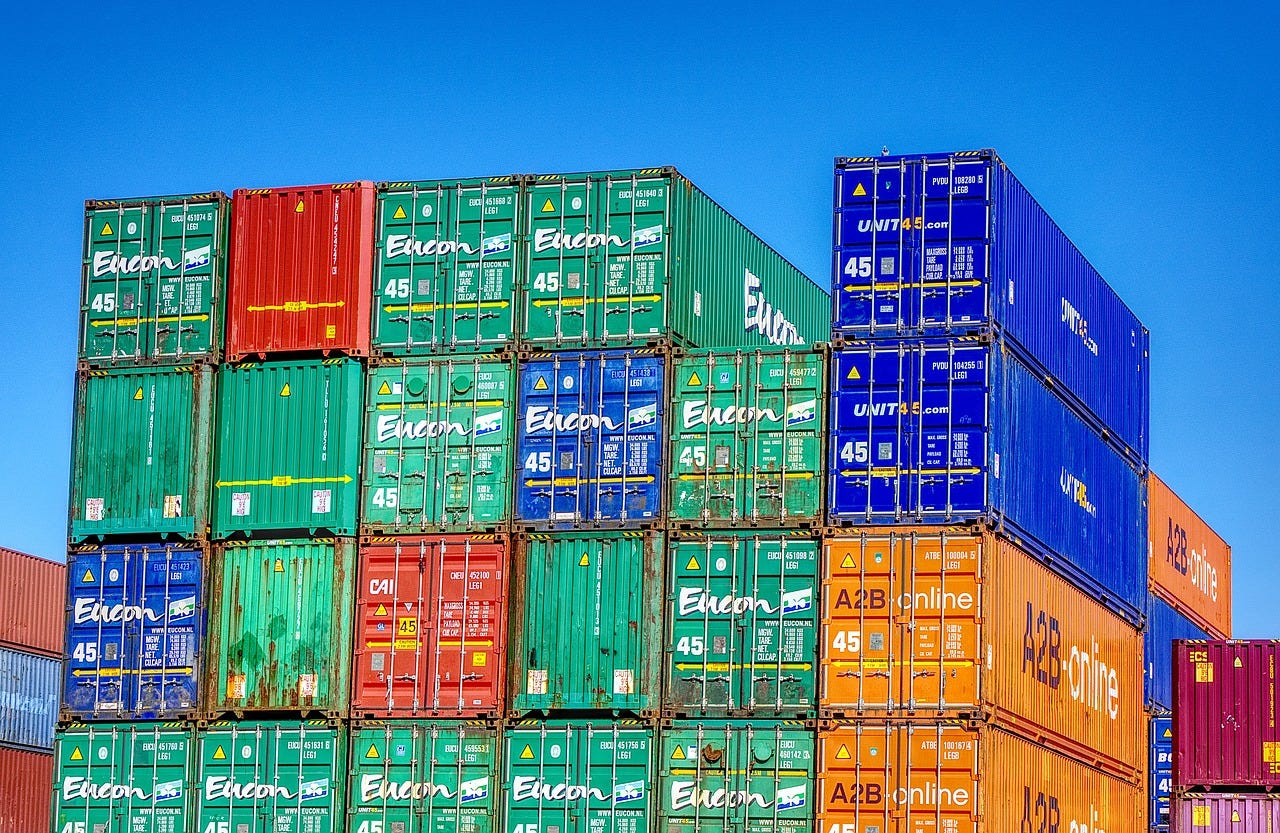 One of the many, many free stock photos of shipping containers that I have used to illustrate stories about Docker over the years. (Pixabay Photo)
Company executives bravely called it "the next chapter" Wednesday, but the sale of most of Docker's business — the part it claimed for years was key to its plans for becoming an independent enterprise tech company — puts the bow on a cautionary enterprise tech startup tale.
Mirantis announced Wednesday that it is acquiring Docker Enterprise, and 300 of the company's 400 employees, for an undisclosed amount that is undoubtedly smaller than anyone associated with Docker would have liked. Docker separately announced that it has raised $35 million in new funding to support what is now a much smaller company that will be led by former Chief Operating Officer Scott Johnston and focused on the Docker Desktop and Docker Hub products.
It's been clear for several years that Docker, which at one point several years ago was the hottest enterprise startup in the game, was not going to achieve escape velocity. Docker was one of the first enterprise-tech "unicorns," or startups created in the wild post-Great Recession era of tech investing that were privately valued at more than $1 billion.
Docker did not create containers, the application-packaging technology that is quickly becoming a standard method for building and deploying software in the cloud era. Applications built around containers are more flexible than ones built around virtual machines, in that they can be launched and shut down very quickly and run across a variety of hardware, as opposed to being tied to a specific server.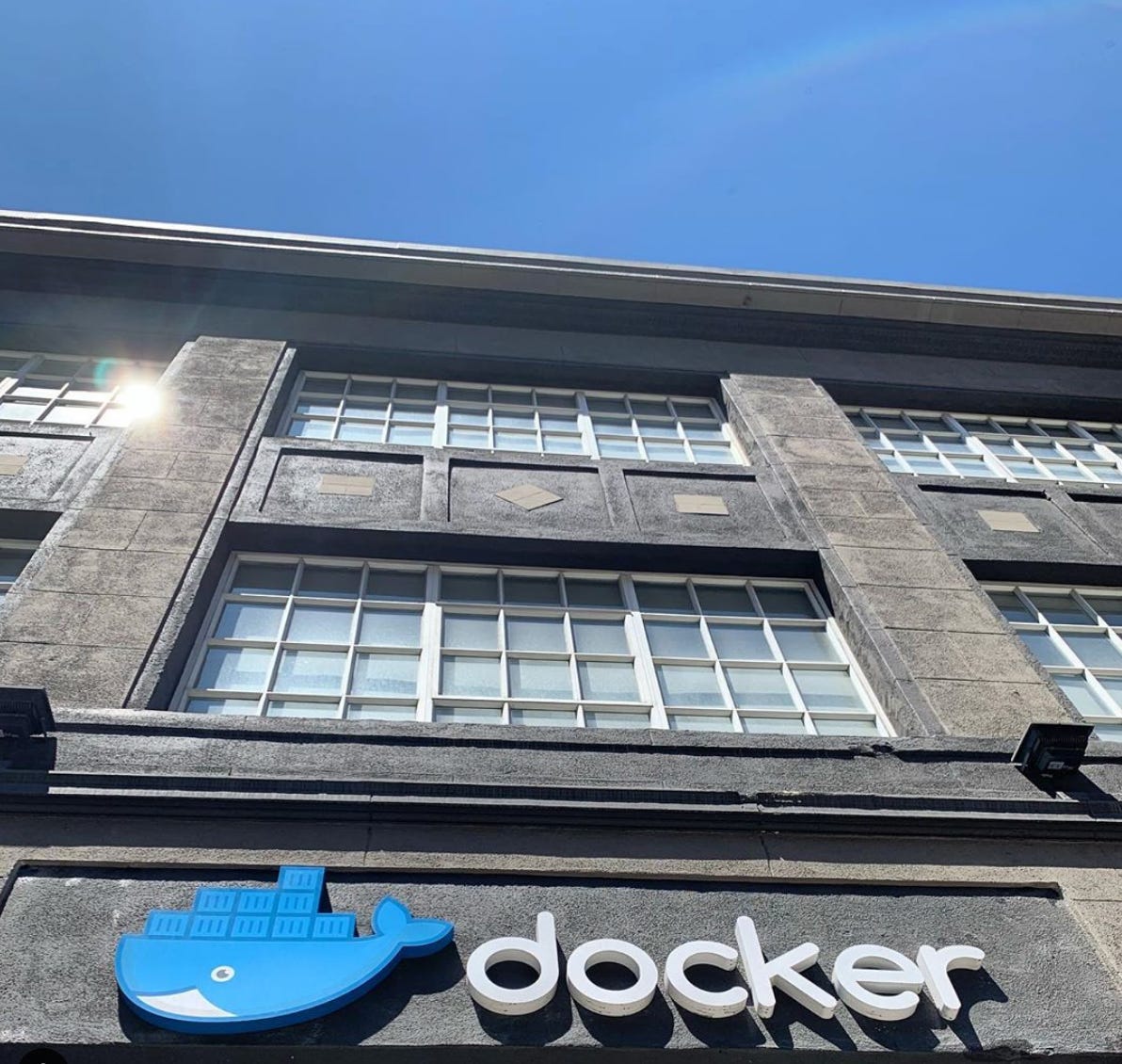 Docker headquarters in San Francisco. (Docker Photo)
But Docker did create a much easier (and open-source) way to create, manage, and use containers in enterprise applications, and its approach was a game-changer for developers and operations pros. Docker containers are a fundamental building block for companies that want the flexibility of a hybrid cloud or multicloud deployment strategy, and the bedrock for higher-level technologies like Kubernetes that are also remaking the world of enterprise tech.
Investors poured more than $272 million into the company over the last decade, but Docker never really found a business model. Its hopes of expanding its container technology into the container-orchestration space was doomed by the embrace of the open-source Kubernetes project across the industry, and while revenue from Docker Enterprise Edition — a promise from Docker to help big companies using legacy tech modernize their applications — was reportedly growing, it clearly wasn't growing fast enough to support a 400-person company with a hefty valuation.
Rob Bearden, who is stepping down as Docker CEO along with these other moves, said in a press release the company finally realized its enterprise strategy was at odds with its developer-oriented roots, which doesn't say a lot about its leadership at the management or board level over the past few years.
After conducting thorough analysis with the management team and the Board of Directors, we determined that Docker had two very distinct and different businesses: one an active developer business, and the other a growing enterprise business. We also found that the product and the financial models were vastly different.
Former CEO Steve Singh told me last summer that Docker was approaching "triple-digit millions" in bookings from enterprise customers, a statement that provoked a dinner companion in Seattle a few weeks later to note, "bookings are bullshit." Singh, a former Docker board member who replaced original Docker CEO Ben Golub in 2017, stepped down earlier this year and reportedly told employees at the time that the company was on the brink of becoming cash-flow positive and headed toward an initial public offering, which, like bookings, would also appear to have been bullshit.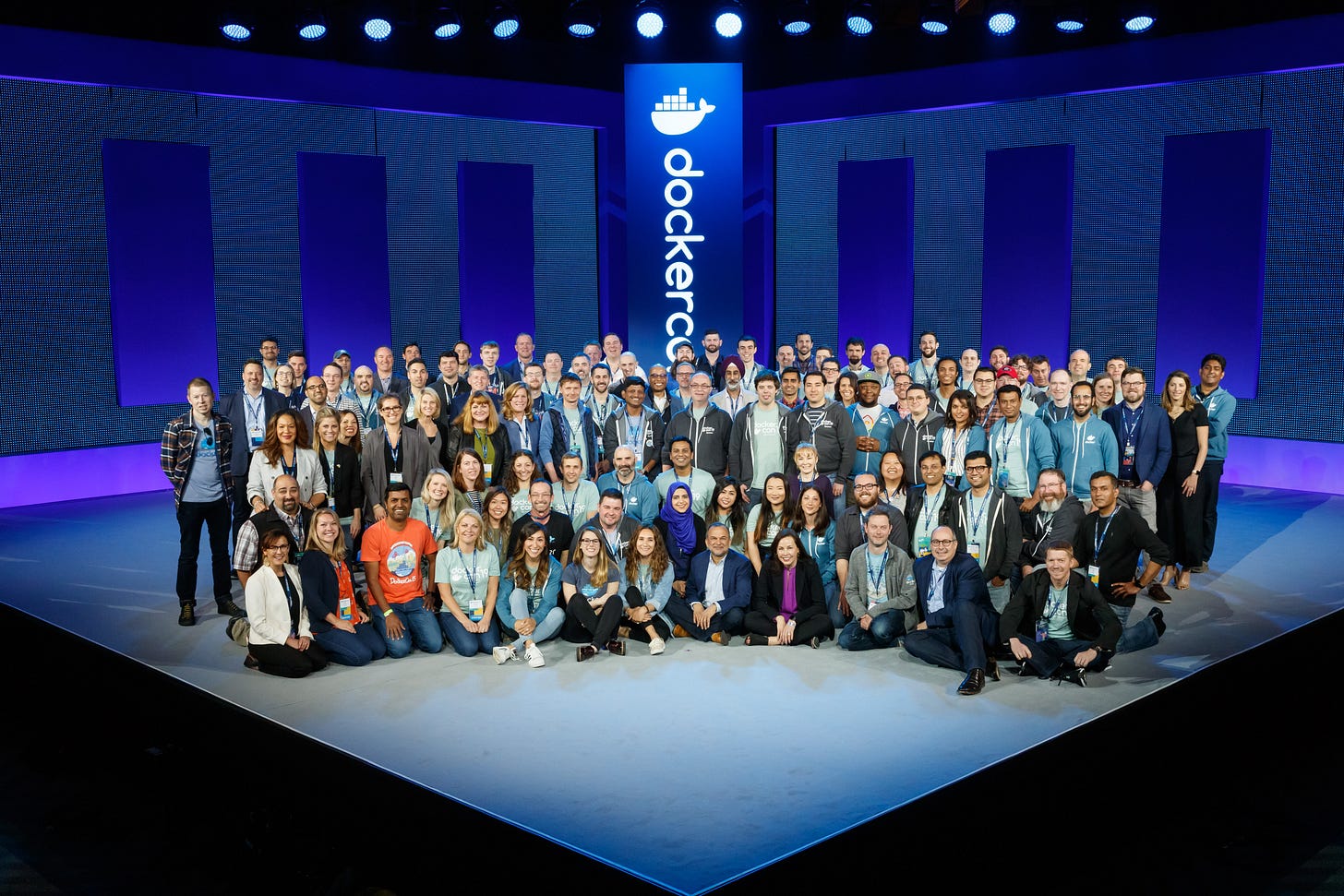 Docker employees at DockerCon 2019. (Docker Photo)
During an interview earlier this year, VMware's Craig McLuckie (one of the original creators of Kubernetes) expressed regret that the Kubernetes community and Docker found themselves on opposite sides during the middle of this decade.
One of my biggest regrets as I look back on the history of Kubernetes is that we weren't more efficient in aligning the world of Kubernetes and the world of Docker. … I think Kubernetes could've benefited tremendously from a lot of the design ethos and the developer-tooling experiences that Docker and the Docker community had brought together. And I think the Kubernetes community could've brought a lot of richness in terms of distributed systems capabilities to Docker.
In that same interview, McLuckie made a crack about Mirantis that drew a chuckle from the audience. The company that is acquiring Docker Enterprise Edition is perhaps best known for its support of OpenStack, another well-meaning but doomed enterprise tech project that once had big hopes of challenging Amazon Web Services but has had to settle for a niche supporting telecom companies.
Docker will now return to its roots as a developer-focused company, helping devs write applications designed around Docker on their laptops. It's not clear how Docker plans to monetize this business, given that Docker Enterprise was considered the company's best chance of generating serious revenue, but $35 million will keep the lights on for another year or so.
In an interview earlier this year with the founders of HashiCorp — perhaps the most buzzy enterprise tech startup of the current moment — CEO Dave McJannet unwittingly predicted this outcome in response to questions regarding whether or not HashiCorp would be able to live up to its own $1 billon-plus valuation.
We recognize that once companies get to a certain value there's a bar you've now created for yourself. And I think there are open-source companies in history that have created that bar and have not been able to get past it.

The very difference is our orientation has been a balanced commercial growth. So we've not gotten valuable on the back of popularity, we've gotten valuable on the back of hundreds and hundreds of massive companies are making infrastructure investments in us, that they understand we're in partnership for a long time.