Why machine learning can't save the NFL
WHEN THE SHIELD IS ANYTHING BUT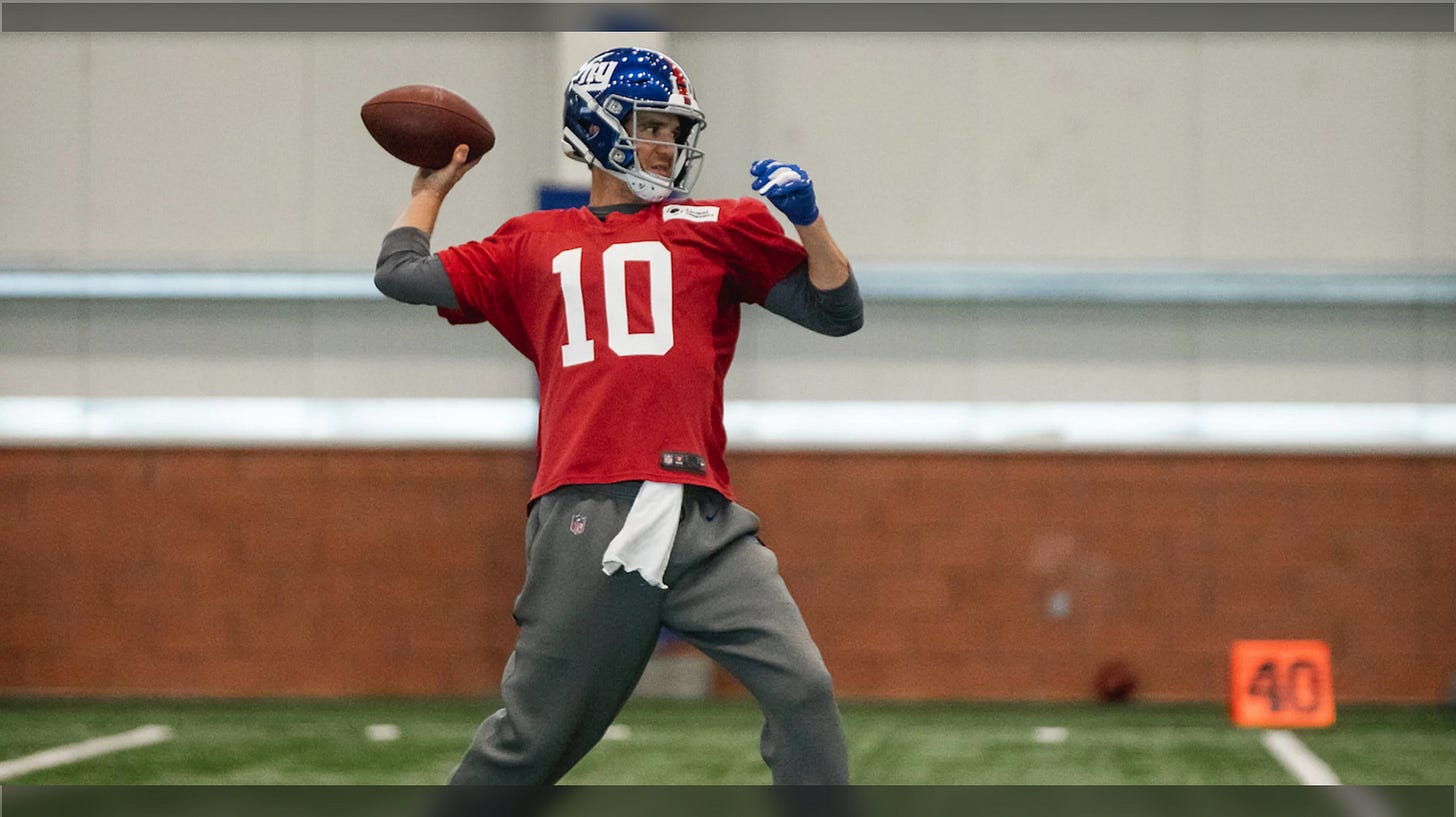 Eli Manning, quarterback of AWS CEO Andy Jassy's beloved New York Giants, practices this week prior to making his first start of the 2019 NFL season since September. (Photo: Matthew Swensen/New York Football Giants)
On Thursday at Amazon Web Services' re:Invent cloud computing conference, National Football League Commissioner Roger Goodell pledged that after years of scandals involving the health of its players, the league now wants to reinvent itself with data and machine learning, creating "the digital athlete." The idea is to prevent injuries with better equipment, rules changes, or even guidelines that certain athletes should play certain positions that lower their risk of a specific injury.
What would we be without wishful thinking. I have been watching college and professional football since I can remember, and the only thing that prevents football players from suffering injuries -- from violent compound fractures to that buzzing sound that never seems to go away -- is standing on the sidelines.
More and more people realize this, which is why youth participation rates in football are falling, down 10 percent over the last decade. For years, the NFL covered up the results of studies and reports about concussions and other injuries suffered by its players because it knew the public would be shocked to learn the toll that even a brief period of playing professional football can have on the human body.
These days, the NFL is very aware that it needs to take player safety more seriously, or to at least better manage the optics. The goal is to convince the public that the game can still be played at its current thrilling speed and intensity — which has accelerated over the past two decades — without compromising player safety by changing some in-game rules and standards around practices based on data.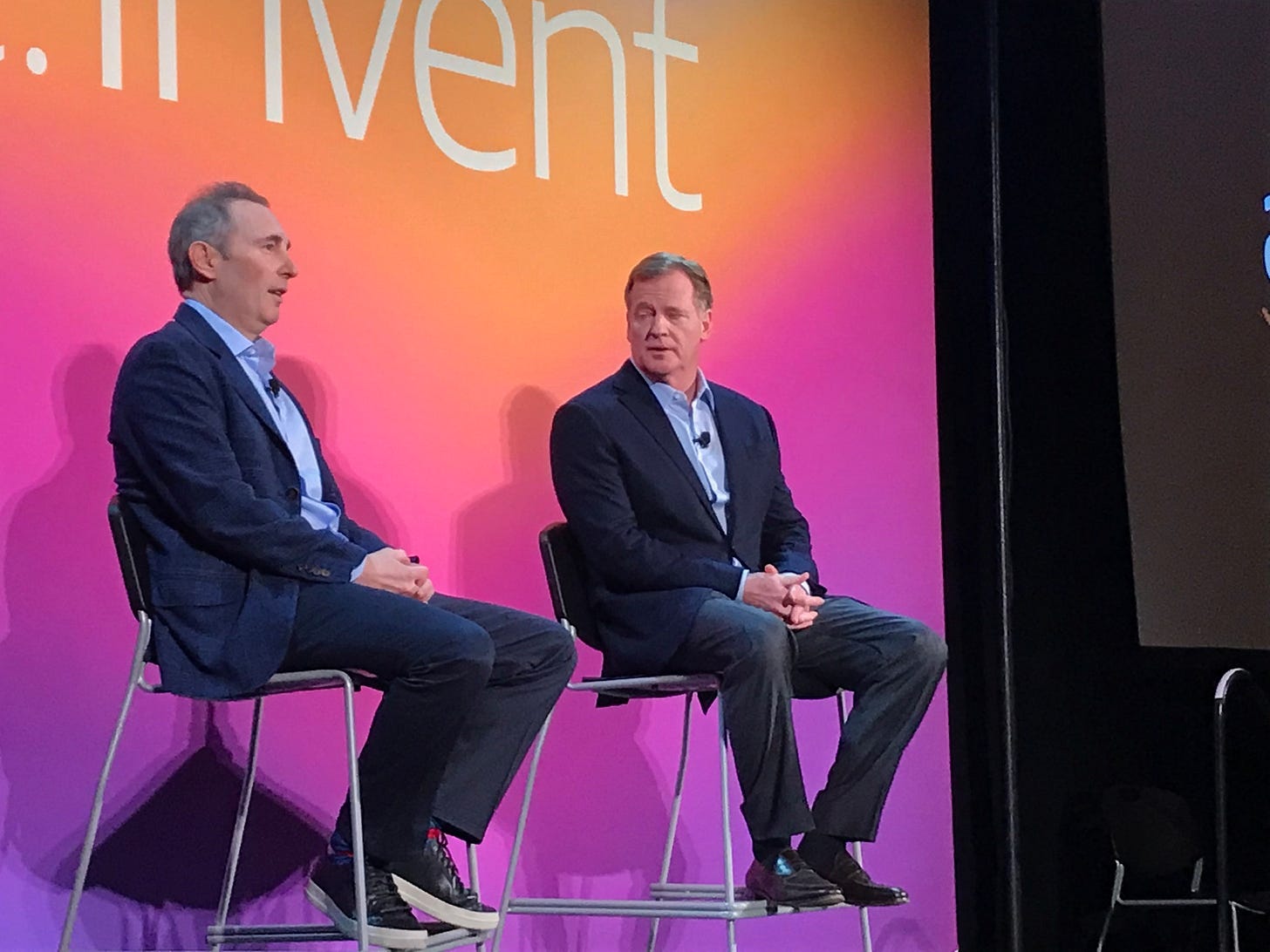 AWS CEO Andy Jassy (left) and NFL Commissioner Roger Goodell discuss their new partnership Thursday at AWS re:Invent 2019. (Mostly Cloudy Photo)
"We want to use that data to now change the game," Goodell said Thursday. "And it will be changing the way it's played, the way it's coached, the way we prepare our athletes for the game."
AWS sells what the marketing people call "digital transformation," the idea that your business must evolve along with the pace of enterprise technology in order to sustain itself over a long period of time. This happens to be true, and AWS offers one of the best and broadest sets of modern tools for building technology organizations.
Machine-learning tools are a growing part of that arsenal. AWS CEO Andy Jassy devoted a significant chunk of his three-hour keynote address Tuesday morning to SageMaker, a tool that helps data scientists and other machine-learning practitioners build and deploy their models in hopes of unlocking insights into customer behavior or automating parts of their business. It's also one of the tools that the NFL said it plans to use as part of a newly expanded deal with AWS.
This is an extremely difficult undertaking. The people closest to the bleeding edge of machine-learning research are also the ones who understand that the science and technology behind machine learning have a long, long way to go before they can produce outcomes that make significant differences to most companies; very few AWS customers are actually using SageMaker, according to figures unearthed by The Information earlier this year.
So it's a little unclear what the NFL actually thinks it can accomplish by uploading thousands of hours of game video and other data points into the cloud. Doctors who have studied current and former professional and college football players often note that it is the week-in, week-out necessity of repeatedly smacking your body into another object that creates the most long-term damage, not necessarily one violent event that results in a concussion or fracture.
Later in the press conference, the NFL's Jeff Miller, executive vice president for Health and Safety Innovation, said that part of its analysis to date involved manually watching video of "700, 800 concussions on the field" from the last few years in order to discover patterns and better understand how the injuries occurred. After the NFL started collecting concussion data in 2012, the number of concussions recorded during each season has fluctuated, rising sharply in some years and falling in others. During the press conference Goodell cited a 30 percent drop in concussions last year as evidence that the NFL's data-driven approach is improving player safety, and while the 214 concussions recorded in 2018 was down significantly from the 281 recorded in 2017, it was also higher than the number of concussions recorded in 2014.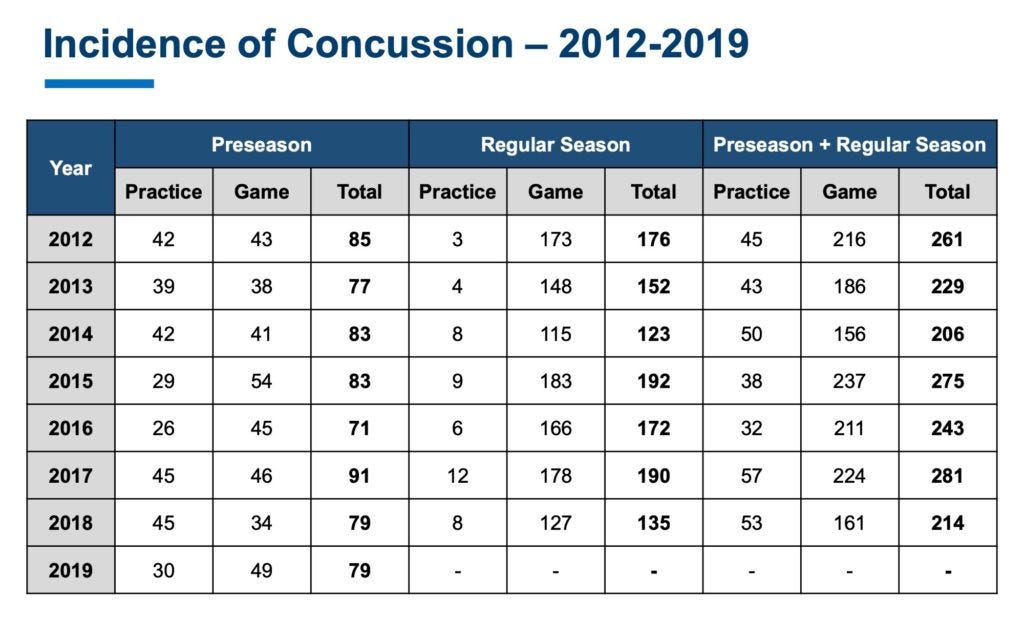 That injury data also reveals that incidence of concussions in the preseason is much higher than in regular season games. During the 2018 preseason, the league reported 79 concussions, with more than half of those occurring in practice, when players on the fringes are playing as hard as possible in hopes of scoring a spot on the 53-man roster.
You don't need a fancy cloud-based machine-learning service to understand that one of the easiest ways to reduce player injuries is to play fewer games, and have fewer practices. However, under Goodell, who serves at the pleasure of the 32 owners of NFL teams, the league's mandate has been clear: to "grow the pie," or to squeeze as much revenue out of the football season as possible.
Almost every team now plays a Thursday night game, a short window of recovery from their previous game on Sunday that not too long ago was only something that the Detroit Lions and Dallas Cowboys had to deal with every year. After years of resistance, the NFL finally appears open to shortening the preseason, but "that revenue-decreasing step probably would have to be accompanied by a revenue-boosting measure, either the lengthening of the regular season to 17 or 18 games per team, or the expansion of the playoff field from 12 to 14 teams," according to a report last August. The players union is resolutely opposed to an 18-game season, for obvious reasons.
In what was probably his last public appearance over a long week in Las Vegas, Jassy had perhaps his most genuine moment, saying a few words before he was joined on stage by Goodell about his deep love for football. Like many men of our generation, Jassy grew up watching football and going to games with his dad, creating a bond that for whatever reason does make it easier for men to talk to each other.
There is no American sport that combines power, grace, speed, agility, and deep strategic thought like football. Even as I've learned the extent of the damage endured by the men who played the game I watched while I was growing up, almost every fall Sunday morning at 10am the phrase "SEVEN HOURS OF COMMERCIAL FREE FOOTBALL!!!" fills our house as Scott Hansen kicks off another NFL Red Zone broadcast.
Yet the game is inherently flawed. Human beings were not designed to collide with each other with the force generated by modern NFL players, and the most likely conclusion we'll learn from sophisticated video and data analysis is that the game is taking an even greater toll on its participants than we thought.
You can't digitally transform people. Any "safe" version of football is going to be a very different product than what is currently sold to the American sports fan, and until the league affirms that it is willing to make less money in order to protect player safety, the "digital athlete" will be vaporware.