With Outposts, Local Zones, and Verizon, AWS looks beyond the cloud
THE AWS TAKE ON EDGE COMPUTING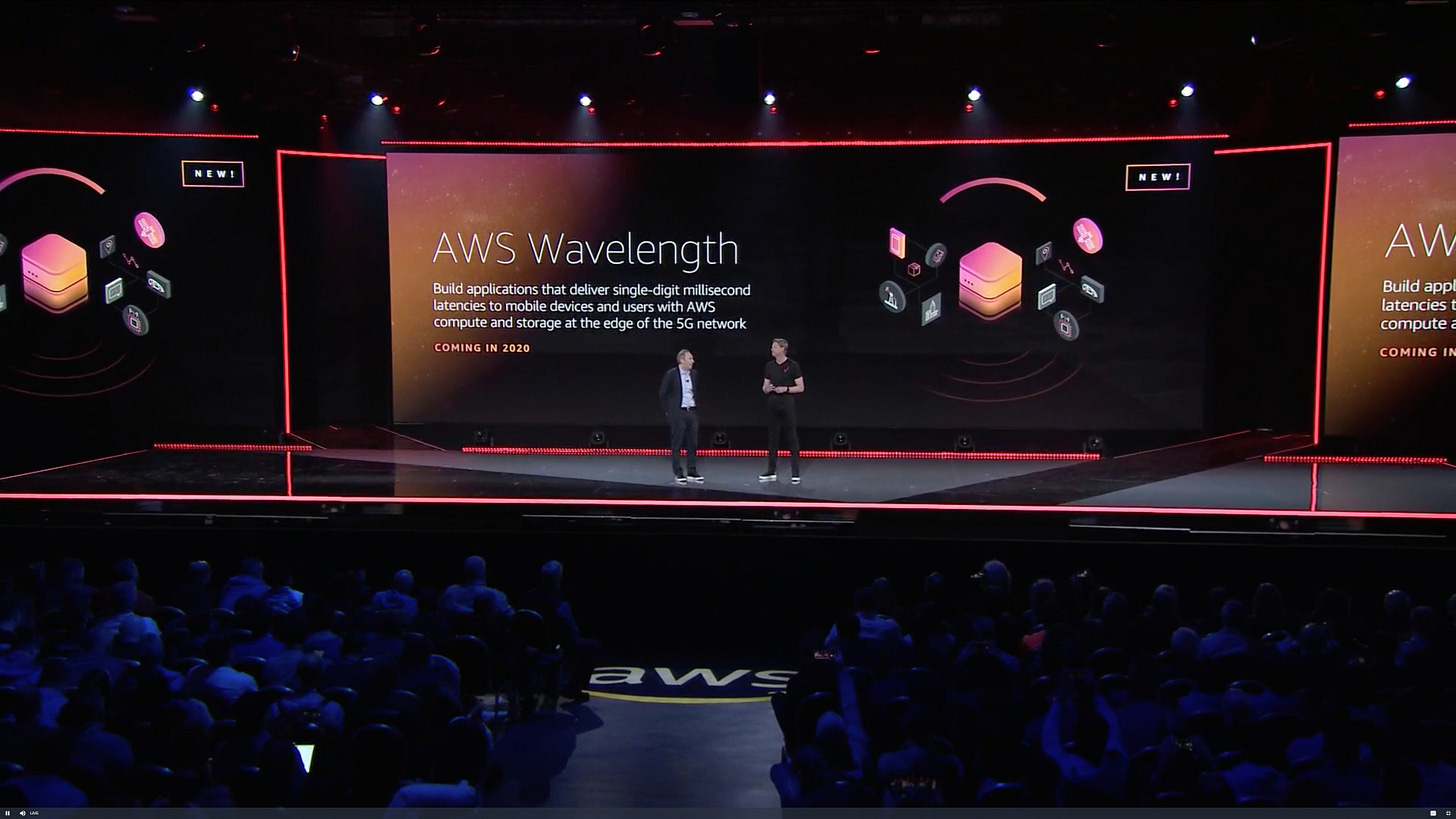 AWS CEO Andy Jassy (left) and Verizon CEO Hans Vestberg (right) introduce AWS Wavelength Tuesday at re:Invent 2019. (AWS Photo)
Over 65,000 people came to Las Vegas this week because for more than a decade, Amazon Web Services has run the world's best cloud computing service. Over the next decade, AWS is looking to put its stamp on the old-fashioned way of standing up tech infrastructure.
During his keynote address Tuesday morning at re:Invent 2019, AWS CEO Andy Jassy introduced three products — AWS Outposts, Local Zones, and AWS Wavelength — that are a decided departure from the cloud-is-best strategy pursued by Jassy and AWS in the early days of its pioneering service. The three announcements are an acknowledgment that the traditional distributed cloud computing model doesn't work for a sizable number of current and potential cloud customers, and an acknowledgment that increasing application demand and new networking technologies are signposts on the road to edge computing.
Jassy unveiled AWS Outposts last year alongside VMware CEO Pat Gelsinger, and it is now generally available. Outposts is an AWS-designed server rack that comes with software links to AWS cloud infrastructure services, such as the flagship EC2 compute service as well as higher-level services like its ECS and EKS (containers and Kubernetes, respectively) managed services.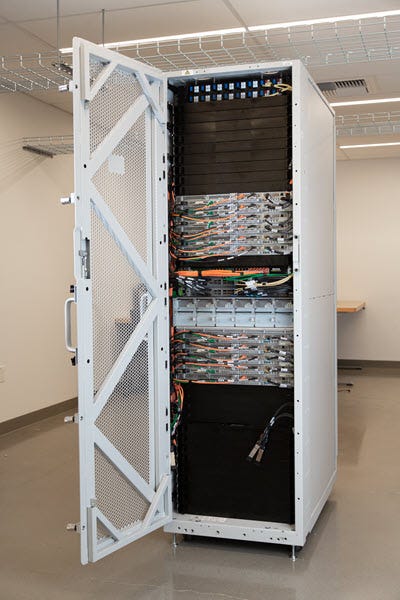 An AWS Outposts rack. (AWS Photo)
Customers can run Outposts in two configurations: an "AWS Native" configuration that uses the cloud leader's software as the primary interface, and a "VMware Cloud for AWS" configuration that will become available in early 2020, Jassy said. Think of Outposts as training wheels for the cloud, designed for customers that want run some of their applications on hardware they control but also want to be able to take advantage of cloud services as makes sense.
Local Zones, unveiled for the first time Tuesday, are a little different. AWS operates a huge network of data center regions around the world, but any globally distributed network is subject to latency issues, as the speed of light is a gating factor for some applications that require near real-time feedback.
With Local Zones, AWS is extending its reach by building small data centers (based around the AWS Outposts design) in strategic locations where it doesn't have a main region. For example, the first Local Zone will arrive in Los Angeles, which is far enough away from AWS's main West Coast data center operation in Oregon to cause problems for some customers: Bloomberg reported Tuesday that Disney animators were interested in AWS Outposts because the round trip from Southern California to Eastern Oregon was taking too long. Local Zones could help address those issues as well.
The other interesting infrastructure-related announcement unveiled during Jassy's keynote (which helps explain why the Monday Night Live infrastructure keynote was so blasé) was AWS Wavelength, a new AWS service unveiled as part of a partnership with Verizon and other telecommunications companies around 5G services. 5G networks are only just now starting to roll out in the U.S., and it's going to take a fair amount of time before we reach a point where significant traffic is flowing over the next-generation network.
When that point is reached, the speed and reliability of 5G networks could inspire some new, interesting types of applications. As part of AWS Wavelength, Verizon will use the service on some of its cellular equipment, which will allow developers to enjoy "single-digit millisecond latencies," the companies said in a release.
In a twist, all three of these re:Invent announcements are evidence of AWS catching up to other cloud providers and traditional hardware vendors, who appear to have understood the needs of cloud holdouts earlier and clearer than AWS.
Microsoft unveiled Azure Stack, a similar type of on-premises hardware service, in 2015, and just recently upped the ante with Azure Arc. It has been evangelizing the concept of edge computing for several years, signing a similar partnership with AT&T in July and rolling out a service just like Wavelength last week in Dallas. Also, several traditional enterprise tech vendors have been selling "hyperconverged" infrastructure products, essentially a packaged and managed bundle of hardware and software designed for ease of use, for quite some time.
Still, as Jassy pointed out earlier in his keynote address, around 97 percent of all enterprise tech dollars are still spent to maintain on-premises data center equipment and software, which means there is enormous opportunity for companies like AWS with a new commitment to the hybrid cloud concept. And even when venturing outside its data centers, AWS is encouraging customers to use its own technology, as opposed to traditional enterprise software.
After all, the hybrid cloud still involves a cloud, and AWS is in no danger of losing its advantage in the cloud any time soon.
(Disclosure: AWS paid for my accommodations in Las Vegas.)
(This post was updated to clarify a few items about AWS Wavelength and its customers.)