Mostly Cloudy: VMware looks for security
OR, WHY INTEL MISSES PAT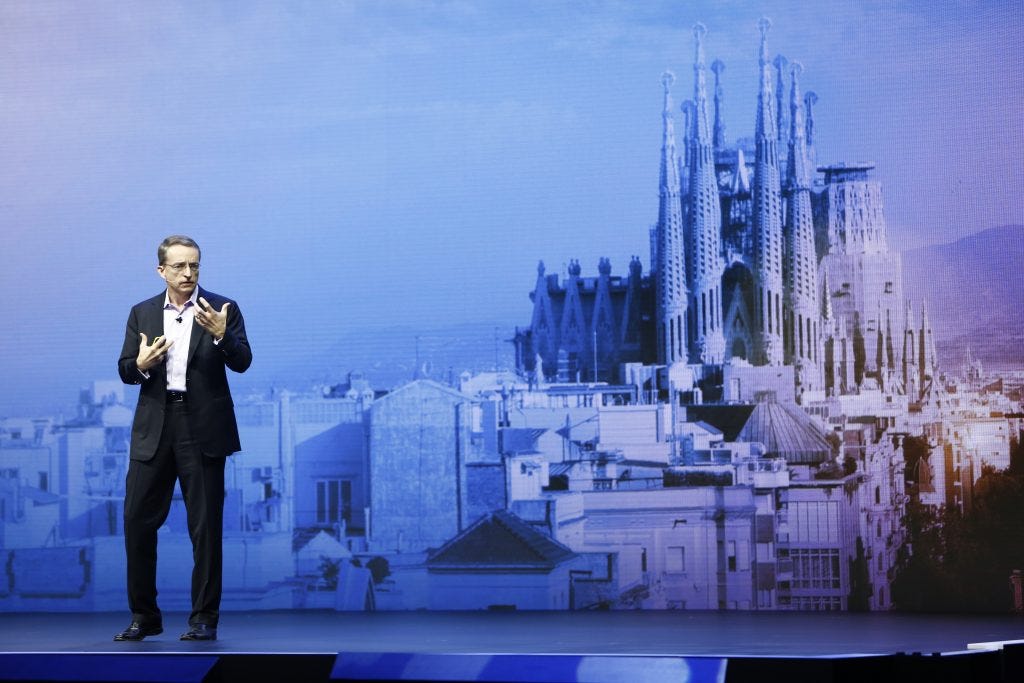 VMware CEO Pat Gelsinger speaks at VMworld Europe 2018 in Barcelona. (VMware Photo)
Welcome to Mostly Cloudy! Scheduling an enterprise technology conference in San Francisco during Burning Man week is pretty genius, I have to admit.
---
This Week in Cloud: Is VMware now a cloud company?
Ahead of its annual customer conference next week in the city by the Bay, VMware made three acquisitions that could position it for the future as well as any enterprise tech company, as infrastructure computing strategies continue to evolve.
The $2.7 billion deal for Pivotal was no surprise, but the $2.1 billion acquisition of cloud security company Carbon Black was a mild one. And earlier in the week VMware picked up Intrinsic, adding a security tool for serverless computing to its growing portfolio of products designed to usher VMware's existing customers into the cloud era.
A generation of software applications were built around virtual machines, but the container is quickly becoming the new atomic unit of infrastructure computing. As more and more companies build their apps around containers, that's driving a surge of interest in software applications that no longer need to be constructed around a particular piece of hardware.
An old-school CERN data center. (Photo courtesy Wikimedia Commons / cc3.0)
Companies that are interested in using hybrid cloud or multiple public clouds don't necessarily want to shift applications back and forth between cloud providers and data centers like pieces on a chessboard; they simply want to use the best engine for a particular application's needs. Those that have embraced this strategy do, however, need something that allows them to manage applications distributed across multiple environments from a central hub.
That's where Kubernetes comes in, which allows big companies to manage large numbers of containerized applications spread across different computing clusters. Kubernetes appears to be a key part of the deal for VMware, which already has its own Kubernetes distribution (developed in partnership with Pivotal) and has become one of the leading contributors to the open-source project over the last year.
But Kubernetes is still too hard to use. That's one of the reasons why VMware acquired Heptio and Bitnami last year, and VMware's Paul Fazzone strongly hinted that next week at VMworld the company will introduce a product for managing Kubernetes clusters across multiple clouds that involves "a degree of openness that is not possible from a cloud service provider."
That's perhaps the most interesting aspect of these moves. After these deals close, companies that have been using VMware's virtualization software in their data centers for years will have even more options for extending those workloads to the public cloud without having to spend all their money with a cloud vendor.
And this puts VMware in a very interesting place as the decade comes to a close, somewhere between the leading cloud vendors and legacy IT vendors like IBM and Oracle.
It has strong relationships with the companies that are still running most of their workloads on their own servers, relationships that are coveted by cloud vendors hungry to capture those workloads. Its comprehensive, multiyear partnership with AWS provides server huggers with a clear path to the cloud leader, and it is forging a similar one with Microsoft.
VMware CEO Pat Gelsinger (left) and AWS CEO Andy Jassy at VMworld 2018. (Screenshot)
And as it adds talent in security — still one of the most frequently cited reasons why cloud holdouts don't want to make the leap — VMware gives its existing customers one more reason why they should stick with their current partner as they move into the cloud.
VMware CEO Pat Gelsinger once thought cloud computing was an existential foe destined to damage his company's business. "If a workload goes to Amazon, you lost, and we have lost forever," he said at a VMware partner conference in 2013.
In 2019, attention has shifted to the tools that will allow companies to abstract cloud infrastructure and manage those workloads across the operating environments of their choice. AWS still retains the long-term potential to become one of the most dominant enterprise technology companies this industry has ever seen, but VMware is showing that there's still plenty of life ahead for enterprise tech companies that understand how to adapt to a new way of computing.
---
And Now, A Word…
I'm working on a piece about Spinnaker, which could become the new open-source darling now that the early adopters are bored with Kubernetes. If you or your company are working on something related to Spinnaker, I'd love to hear about it: just reply to this email.
---
Around the Cloud
Google Cloud, IBM, Intel, Microsoft Back New Effort To Encrypt Server Data (CRN)
Tech vendors are pretty good at securing data at rest, but securing data when it is in use or in transit is more complicated. A new industry consortium under the auspices of The Linux Foundation aims to develop new standards around this security challenge, but will try to do so without a key player in this world: cloud market share leader AWS.
Splunk To Acquire SignalFx For Cloud Infrastructure Monitoring Tech (Seeking Alpha)
Add monitoring to the list of traditional data center tasks that has been upended by the cloud. It's a little harder to understand how a network or application is performing across cloud environments, and Splunk hopes it can update its monitoring tools with $1 billion and SignalFX.
Datadog Files To Go Public With Quick Revenue Growth, Slim Losses, And History Of Profitability (Crunchbase)
A Datadog monitoring dashboard (Datadog Image)
Speaking of monitoring, Datadog took advantage of what might be a shrinking window for 2019 IPOs with a filing late Friday. Datadog took in $198 million during 2018 and has already generated $153 million in the first half of 2019, suggesting there's a lot of demand for modern monitoring tools.
Salesforce stock surges as results, outlook top Street estimates (Marketwatch)
SaaS pioneer Salesforce continues to grow as it digests some big acquisitions over the past year, beating Wall Street estimates on the performance of its sales and marketing software tools. I didn't agree with all the conclusions in this piece, but wanted to note an interesting essay also from Marketwatch on why Salesforce might need to start thinking about hybrid tools for future growth.
Netflix, Google Talk Continuous Delivery at DevOps World (Information Week)
I came so, so close to spiking this link because text articles spread out as slideshows were lame a decade ago, but this was still a good summary of an event that flew under the radar last week. The Continuous Delivery Foundation is only about six months old, and per my message above about Spinnaker, it's starting to get very interesting.
Why Are There So Many Weird Tech Patents? (Slate)
The mobile patent wars of the early 2010s (what are we going to call this decade?) were a dispiriting window into this country's dysfunctional patent system. Not much has changed, believe it or not, and lots of major tech companies continue to get patents on half-baked ideas they never plan on commercializing because, why not?
How Amazon and Silicon Valley Seduced the Pentagon (ProPublica)
There's not a lot new on l'affaire du JEDI in this report from ProPublica, but it does illustrate how the tech industry is just as embedded in the military world as it has been since the DARPA days. One thing that drives me crazy about a lot of these reports is how the idea that the military should consider cloud computing is treated as a speculative option hawked by rapacious tech vendors, when it's a process that nearly every large organization on the planet is considering.
Oracle directors: Shareholders can go ahead with billion-dollar derivative suit (Reuters)
Oracle co-founder and CTO Larry Ellison speaks at OracleWorld 2018. (Oracle Photo)
This is a bonkers story. In effect, three members of Oracle's board just authorized a team of lawyers, which filed a shareholder lawsuit against Oracle co-founder Larry Ellison and other executives for allegedly overpaying for the Ellison-backed NetSuite in 2019, to represent the corporation in seeking damages from its own executives.
Google pushed an exception through to allow US Customs and Border Protection to try a key cloud product free (Business Insider)
The days of Google Cloud turning down government business over employee concerns about doing business with Donald Trump might be over. In an effort to boost its new Anthos hybrid cloud product, Google apparently authorized a free trial of the product for the Customs and Border Protection agency before it had an actual trial program — for any potential customer —in place.
Red Hat's OpenShift Service Mesh Nears Prime Time (SDxCentral)
When Red Hat gets behind an emerging enterprise technology, that's a good sign it's ready for the masses. With support for Istio, the open-source project backed by Google and new Red Hat parent company IBM, OpenShift Service Mesh gives Red Hat a new product in an increasingly crowded space.
How to Make Sure the Next Cloud Outage Isn't the End of Your Business (The New Stack)
James Burns of Lightstep Research shared some ideas on how companies concerned about cloud reliability can take advantage of existing tools and services from most vendors to engineer around outages, as much as possible anyway. Observability, which is the cloud-native way to think about the monitoring concepts discussed above, plays a big part.
Microsoft hires open-source veteran Stormy Peters to run its Open Source Programs Office (ZDnet)
Microsoft's evolution into one of the more prominent open-source companies in technology has been well documented, but it is still amazing to behold for veterans of the space. Stormy Peters, most recently of Red Hat and formerly of Mozilla, will lend some more open-source expertise to the company.
---
Tweet That Made Me Laugh or Cry or Think
Multicloud is like carrying an iPhone and a Pixel while attempting to share a single SIM card.